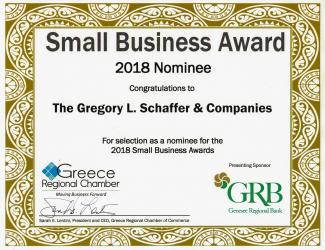 Nominated for Small Business of the Year!
by Gregory Schaffer on Sep 14, 2018
It is with great pleasure to announce that The Gregory L. Schaffer Companies has been nominated for Small Business of the Year for 2018.
I am pleased, honored and humbled to accept this and thankful for those that have supported and nominated our organization.
A special thanks to the Greece Regional Chamber of Commerce, Sarah E. Lentini, President & CEO, their board, committees and employees for putting together this recognition of small businesses in the Greece, NY and surrounding areas.
I also want to salute all this year's nominees each of whom have made incredible contributions to the area and the community. We do live in a great region and we are very blessed to be part of it.
The Gregory L. Schaffer Companies has been serving the community for over 34 years with clients locally and worldwide by providing investment services, accounting, taxation, payroll, consulting, all forms of insurances, real estate services, wealth preservation, trustee and executor services.
Our primary function is financial services however we have a few other companies in the business family:
Schaffer & Company Asset Management, Inc.
Beacon of Light Financial Services, Inc.
Schaffer & Company Financial Services
Schaffer Wealth Preservation & Capital Management
Schaffer Accounting & Tax Services
The Gregory L. Schaffer Insurance Agency, Inc.
Gregory Lee Schaffer Photography
Beacon of Light Realty USA
Schaffer & Co Exotic Motorcars
Facilities Equipment Sales, Inc.
Our company's mission to be a "financial doctor" to our clients in all the areas of their financial needs. We practice excellence in financial stewardship and have become the trusted "go to" professionals for our clients.
We have a dynamic group of employees that make this all come together, and we are grateful for their dedication, loyalty and assisting us in putting the client first.
And for the thousands of clients we serve, we are grateful, humbled and honored to serve you and your families. We thank God for his blessings and for being part of your lives. Your trust and confidence is what motivates us to excel at what we do and we thank you for patronage.
Gregory Lee Schaffer, CEO