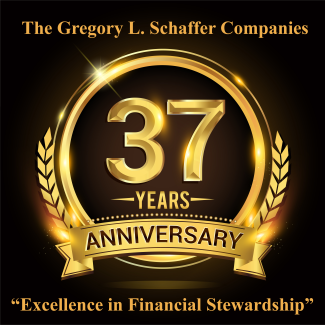 37 years of service!!!
by Gregory Schaffer on Jun 15, 2021
I am grateful to announce another milestone in the history of The Gregory L. Schaffer Companies; our 37th anniversary.
We stand today as one of the most comprehensive financial service companies in the country offering, Investment Advisory & Portfolio Management Services, Accounting & Taxation Services, Full Real Estate Services, Trust Planning, Trustee and Executor Services, and all forms of Insurances.
Our firm is designed to be a "financial doctor" to our clients and their best interest is our highest priority.
Our success story is our dedication to being trustworthy, highly educated, providing a value to our clients and applying the "Golden Rule". We have a true passion for helping others and we remain diligent to provide the highest level of service and expertise for many more years to come.
Our staff has been a key part of our journey and their dedication, enthusiasm, loyalty and hard work has been valuable to our continued success. I am proud to have them as part of our work family.
We can't thank our clients enough for allowing us to serve as their trusted advisors and allowing us to be part of their lives. We are grateful and blessed for your trust and confidence and we will do all we can to edify your financial stewardship and protect your families for many more years to come.
May God Bless you and your families always!
Gregory Lee Schaffer, Founder, CEO, President